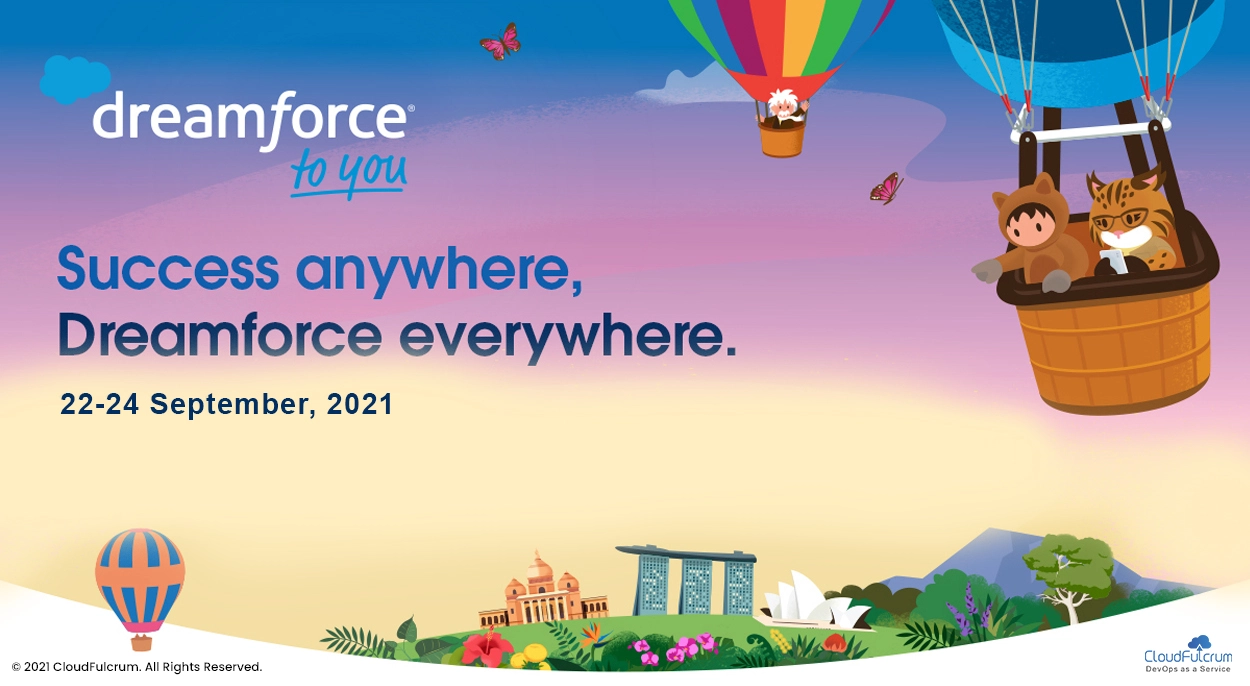 Latest Developments
The latest developments at Salesforce Dreamforce-2021 include Robotic Process Automation (RPA) workflow, OwnBackUp, Tanium, ITSM Vs ServiceNow, Cybersecurity, and more.
Here's what's in store for Salesforce partners and customers globally:
1. Salesforce Robotic Process Automation (RPA)
In August 2021, Salesforce acquired RPA software provider, Servicetrace. The acquisition is expected to be closed by the end of October 2021. According to Gartner, the global RPA software revenue is estimated to reach $1.89 billion in 2021, which is an increase of 19.5% from the previous year. This deal integrates RPA and workflow automation software into Salesforce's cloud strategy. Partners and end-customers benefit from novel ways to automate IT Service Management (ITSM), security operations, sales, marketing and other tasks. This acquisition puts Salesforce against ServiceNow, Automation Anywhere, and UiPath, among other organizations in the RPA sector.
Before the start of the conference, Salesforce launched three new Einstein Automate products. According to the company statement, this was intended to "help every Salesforce customer, regardless of technical background, use low-code tools to automate time-consuming, manual processes and integrate data across systems right from their digital HQ". The latest products are MuleSoft RPA, Einstein Document Reader, and Digital Process Automation.
2. Salesforce Cybersecurity & Data Protection
OwnBackup, the cloud backup, Business Disaster Recovery (BDR), and data protection software organization, will have a significant presence at the Dreamforce conference. In August 2021, OwnBackup raised $240 million, with the primary investors being Salesforce Ventures, and Insight Partners, which is proving to be cloud backup's principal investor. In early September 2021, OwnBackup acquired RevCult, Salesforce security software company. RevCult's products comprise Cloud Security Cockpit for suitable Salesforce security controls, and Shield Security Cockpit for encryption management. The company also provides Salesforce Shield implementation services and Salesforce security risk assessments. The OwnBackup-RevCult deal integrates SaaS-focused BDR, data protection and cybersecurity services.
3. Merger and Acquisition (M&A) Deals of Salesforce Partners
Conferences usually offer a productive ground for M&A and investment discussions. M&A activity between Salesforce partners was intense before the event. Things could get more interesting as IT consulting firms, cloud integrators, and Independent Software Vendors wish to finalize M&A deals before the Congress actualizes increase in potential capital gains in the U.S. tax code. The prominent buyers and investors in the Salesforce ecosystem thus far in 2021 have been: IBM, ConvergeOne, EPAM Systems, Accel-KKR, One Equity Partners, iLink Digital, Ascend Technologies, K2 Partnering, Atos, Accenture, Booz Allen Hamilton, Infostretch, Allant Group, RMS US LLP, OSF Digital, VntCap Technologies, Computer Design & Integration (CDI).
4. Salesforce Backup and Restore
Salesforce announced a new data recovery service native to Salesforce Platform called 'Backup and Restore.' According to Salesforce, Backup and Restore "automatically creates backup copies of business data, empowering any organization to restore data and recover, in just a few clicks, from even worst-case scenarios". However, it is not clear whether Salesforce Backup and Restore relates to the Salesforce's investment in OwnBackup.
5. Field Service Management Software
ServiceMax Asset 360 for Salesforce has introduced new features. According to the company, the new features "better equip customers to leverage asset data across the organization, breaking down data silos and ensuring customers get the most out of their assets."
6. Oracle Fusion Marketing
An announcement of Oracle Fusion Marketing was made to coincide with Dreamforce-2021. Fusion Marketing allows marketers to effortlessly create campaigns that comprise conventional marketing and advertising channels, and is the first marketing automation solution that is designed to circumvent the complete lead qualification and conversion process. Furthermore, Fusion Marketing can create a qualified sales opportunity in any CRM system.
7. Remote Monitoring & Management (RMM), IT Services Management (ITSM), and Cybersecurity Software
In March this year, Tanium and Salesforce introduced IT Service Center, a blended platform that supports ITSM, RMM, and cybersecurity capabilities. This initiative likely places Salesforce to vie against ServiceNow's ITSM capabilities, and set the stage for PSA (professional services automation), RMM, help desk, and CRM capabilities to stay together on the Salesforce cloud platform. Tanium's moves have to be closely watched at the Dreamforce Conference.
Latest Announcements
The significant announcements from Salesforce's Dreamforce conference are: new video message capabilities in Slack, a more sophisticated version of government-certified Slack, and Slack integration across a comprehensive range of the Salesforce's cloud products – from Commerce Cloud to Experience Cloud.
The announcements come as numerous Salesforce partners continue to decipher how Slack relates to their offerings and provides value-addition to customers. Slack can be a possible internal and external communication tool that also enables sharing of information, something that vies against other collaboration tools such as Microsoft Teams.
With the acquisition of collaboration application Slack for about $28 billion, Salesforce continues to add latest features and functionality to its array of products. Salesforce's latest offerings and expanding portfolio of subsidiaries – from MuleSoft to Tableau – add further value to the offering from its partners.
Slack Clips Made Available for Video Messages
Slack has made its Slack Clips tool generally available to make and share audio, video and screen recordings within any Slack channel or direct message. Both internal as well as external users can record and share clips to a channel for colleagues to watch later at their convenient time. Viewers can accelerate or decelerate the message, use live captions and open a transcript to identify specific components of the message. According to the company, users can reply to Slack Clips in a different medium, such as replying to a video message with audio or text.
'Slack Connect' Sponsored Connections Anticipated
According to the company, a sponsored connections feature for 'Slack Connect' – the tool that enables external communications through Slack – will allow users to communicate with people outside the organization without requiring them to pay for their own Slack plan. The feature will be introduced to enterprise grid customers "later this fall."
Slack Connect has risen more than 200% year-over-year. More than 91,000 organizations work with partners in Slack. Users can anticipate more deals comprising numerous Salesforce clouds that include Slack plus integrations with Slack and Salesforce's product range, which includes data analytics tool Tableau and integration tool MuleSoft.
GovSlack to be Released in 2022
According to the company, Slack plans to introduce a version of Slack that runs in a government-certified cloud environment with FedRAMP High, DoD IL4 and other security and operational requirements of the federal government. The version, called 'GovSlack,' will be launched next year.
GovSlack is expected to serve a wider section of the public-sector market than Slack Enterprise Grid. The latest version comes as Salesforce expands its presence in the public sector market.
Slack Integrations Across Salesforce Products
According to the company's announcement, Salesforce will introduce Slack integrations across the bulk of its products and industry clouds throughout the year and into 2022.
The integrations include the ability to install Quip documents into Slack and the ability for users of Corporate and Investment Banking cloud tool to work together and share account details in a Slack channel. Commerce Cloud users attain the capability to notify colleagues to order issues and business trends, and Experience Cloud users can use alerts when content is published that can be shared with internal and external users.
1 Joe Panettieri, "Salesforce Acquires Servicetrace RPA; Challenges ServiceNow, Automation Anywhere, UiPath," https://www.channele2e.com/investors/mergers-acquisitions/salesforce-buys-servicetrace/, Aug 3, 2021.