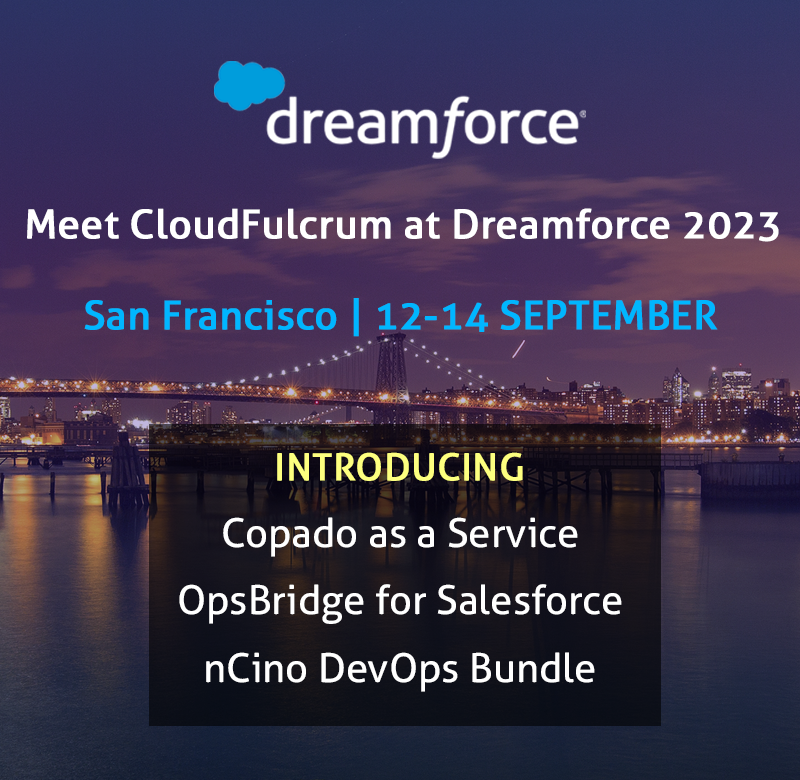 Step into the Future of Salesforce DevOps at Dreamforce 2023 with CloudFulcrum!
Mark your calendars for September 12 to 14! Join us in the vibrant heart of San Francisco for an unforgettable experience that will reshape your development and deployment strategies. Get ready to immerse yourself in our latest product lineup and a thrilling party, featuring:
CloudFulcrum's OpsBridge: Experience the power of unified application lifecycle management and orchestration with CloudFulcrum's OpsBridge. It's designed to enhance quality and speed in even the most intricate deployments.
Copado as a Service: Elevate your Salesforce DevOps to unprecedented heights through our partnership with Copado. We provide a seamless and dynamic DevOps experience designed to take your operations to the next level.
Enhance Your nCino Experience: Discover how CloudFulcrum, with Copado-Powered DevOps and DataOps, can elevate your nCino experience to new heights.
Join us for a Thrilling Party: As the sun sets on Tuesday, September 12, from 6 PM to 8 PM, get ready for an electrifying party at HOTEL ZETTA, brought to you by CloudFulcrum and Copado. Networking, celebrations, and good times await!
Register here: https://copado.com/dreamforce-2023-happy-hour
Secure Your Spot Now: Don't miss this golden opportunity to supercharge your Salesforce journey. Book a meeting with us to ensure you make the most of Dreamforce 2023.
Comments are closed.