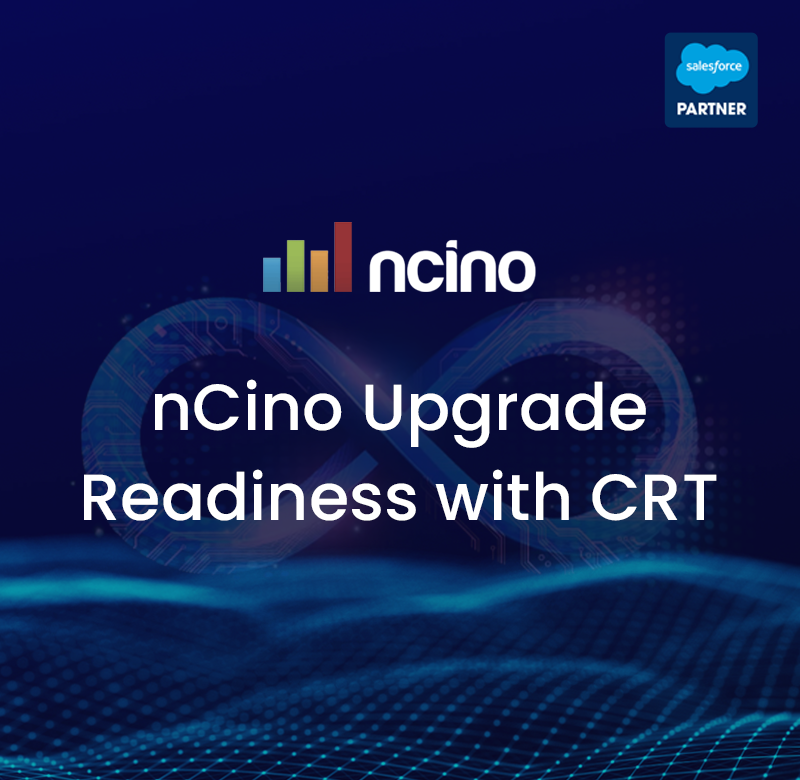 When it comes to navigating the complex landscape of nCino upgrades, DevOps, and DataOps, having the right strategic partner is paramount. We are thrilled to introduce you to CloudFulcrum, your trusted strategic partner in the Salesforce ecosystem and an official partner of Copado. Our mission: to empower you with seamless nCino experiences through our innovative solutions.
1. Regression Suite for nCino with Copado CRT:
Redefine your nCino journey with CloudFulcrum's Regression Suite for nCino, seamlessly integrated with Copado CRT. This powerful suite ensures you handle major and minor upgrades flawlessly, eliminating downtime and potential hiccups. Trust us to keep your nCino environment robust and reliable.
2. Playbook for nCino DevOps + DataOps with Copado:
Achieve unprecedented efficiency in your nCino DevOps and DataOps processes with CloudFulcrum's comprehensive playbook. Our guide, crafted by experts, helps you leverage Copado to streamline development, bolster collaboration, and elevate your nCino ecosystem to new heights.
3. Data Template Migration for nCino with Copado:
Simplify your data template migration from other DevOps tools to Copado with CloudFulcrum's expertise. Experience hassle-free data management and harness the full potential of Copado's data-centric capabilities.
Why Trust CloudFulcrum?
Strategic Copado Partnership: As an official partner of Copado, we offer unparalleled insights into the platform's capabilities, ensuring you harness its full potential.
Proven Excellence: Our extensive experience and successful track record in the nCino ecosystem make us your trusted advisors.
Cutting-Edge Solutions: CloudFulcrum solutions are designed with the latest industry best practices and innovation, keeping you ahead of the curve.
Dedication to Your Success: We provide exceptional support and comprehensive training to ensure your success.
Ready to Elevate Your nCino Experience?
Unleash the potential of nCino with CloudFulcrum's innovative solutions. Contact our team today to explore how our partnership can transform your nCino DevOps and DataOps processes.
Comments are closed.