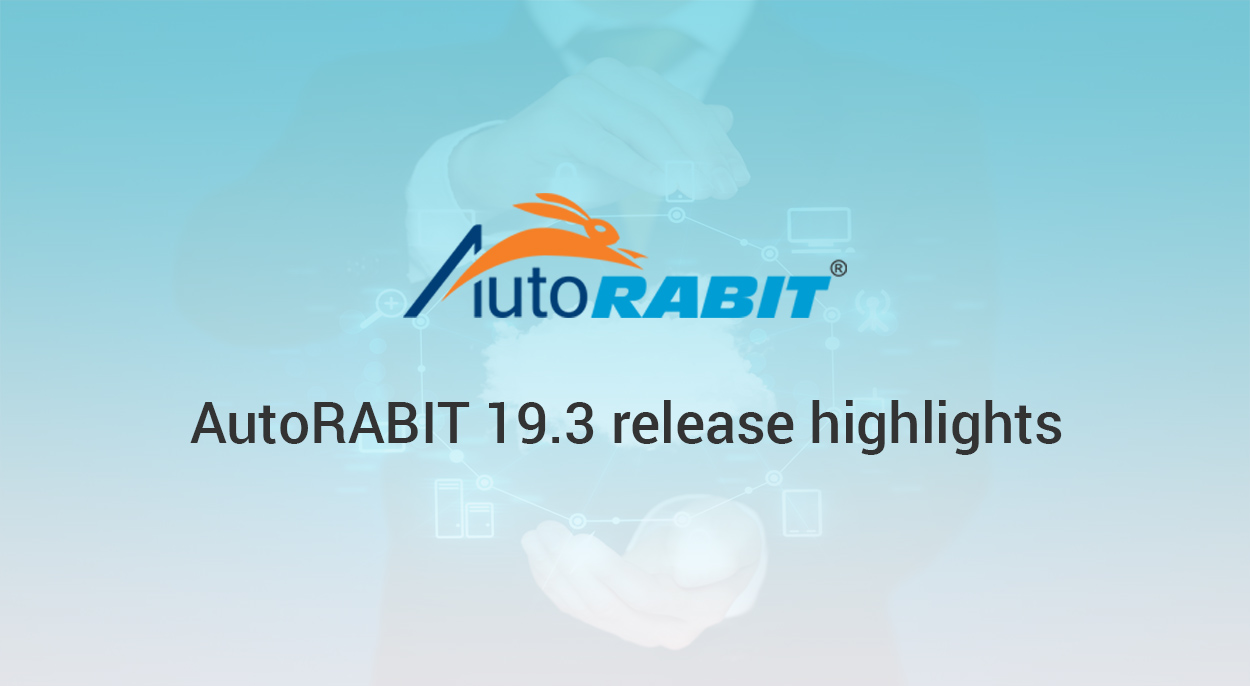 General Features
Intuitive UI
Introducing "easy navigation" by placing the left menu.
Achieve Click Consolidation or Click Reduction.
Support for Salesforce Winter '20
AutoRABIT platform upgrades to support Salesforce's latest release, Winter '20 AKA API 47.0.
API Tokens
To authenticate any request, an API token will be required. Users can access, manage their API token under the Admin section.
AcceIQ Integration
We are extending our test automation capability by introducing a new integration partner, "AccelQ" to meet our growing needs.
Version Control Features
General
Auto-Refresh
"Quick Merge" accessible from these screens:
Commit History
Commit & Release Labels
Version Control Operations
Genera
Auto-Refresh
"Quick Merge" accessible from these screens:

Commit History
Commit & Release Labels
Version Control Operations
Detect duplicate XML lines in Profiles and resolve them post-conflict resolution.

Release Manager can quickly check for "duplicate access setting" entries and allow them to be removed from the merged file.

Line level Conflict Resolution

Apart from the conflict resolution options provided by a standard git flow, users can also perform a line by line conflict resolution.

Parallel Commits

During gated commit, users will now be able to invoke parallel commits between the same Salesforce org or the same branch.

Split a Commit Label

Users can now split multiple revisions or grouped revisions under a single commit label as individual commits.
CI/CD
ALM Integration
Choose multiple sprints when configuring an ALM workflow

Users can now choose 'All Active Sprints' or multiple sprints as long as the workflow of the project remains the same.
Users will be able to configure independent workflow for each work item type.
Deactivate CI Job
Users can now deactivate a CI job ( Instead of deleting it)
Once a Job is deactivated:
Any scheduled Job will be stopped
Incoming webhooks will not be processed
It will be removed from any Build or Deployment queue
It cannot be triggered manually.
A user will still be able to see the results of any previous runs for the deactivated Job
New CI Job Type – Run Test Automation on a Salesforce Org
Users will be able to run Test Automation Limitations jobs independent of build or deployment from any supported tool (Provar, AccelQ, Selenium).
These jobs can be chained as a workflow to other CI jobs as a Post Deployment activity.
Handling Governor limits during CI Jobs
Auto-switch CI job when it runs into Salesforce Limitations retrieval governor limits
Any CI job that processes retrieval from a Salesforce org will now have the option to auto-switch to Metadata Mastery logic so that metadata retrieval is performed in logical batches to avoid Salesforce governor limits.
Users will have an option to set the batch size for Profiles.
Users will be able to use this feature when they want to backup Salesforce Metadata Limitations from a Sandbox/Production to a branch periodically.
External APIs
Extending our API services to support more functions under CI/CD Operations. Please refer to the user documentation for specific API details.
Update baseline revision for a CI Job
Query latest results of a CI job
Poll CI Job status
Call Quick Deploy without specifying build number for a CI job
Abort a CI job
Query All Jobs
Selective Deployments
Rollback Operations

Exclude Metadata Limitations changes (destructive or constructive) by choice during Rollback operations across the platform.

Deployment Manager

Salesforce developers can now invoke Static Code Analysis using ApexPMD/Checkmarx and Lightning Lint before commencing a "non-CI" deployment. It is helpful when deploying from a Commit Label or a Release Label.