Introduction
CloudFulcrum is taking a significant step towards accelerating Salesforce development by implementing Copado Robotic Testing (CRT) in their CRM platform. This innovative solution promises to enhance efficiency, reliability, and overall quality during the testing phase of their Salesforce projects. In this blog, we will explore how customization is done for various teams, including Sales, Marketing, Professional Services, and Customer Success, to track leads, opportunities, invoices, and hourly services efficiently. We will also discuss the importance of test automation in maintaining application stability, especially as constant changes are made in Salesforce applications.
Optimizing Business Operations with Salesforce CRM at CloudFulcrum
1. The marketing team generates leads and stores all lead information in the Lead object.
2. The sales team converts the lead into an Account, Contact, and Opportunity.
3. The sales team closes the deal and stores information about the deal process in the Opportunities pipeline.
4. The information from Opportunities is used to create new Project object records.
5. Existing Projects have details such as the project start date, project end date, employees working on it, and project amount (money).
6. There is also an employee object that contains information about each specific employee working in the organization, including the projects they are assigned
to and the number of projects they are currently working on.
7. The HR team analyzes the manpower by examining the employee and project records.
8. The Finance team analyzes the organization's budget using project amounts, employee records, and their salary information.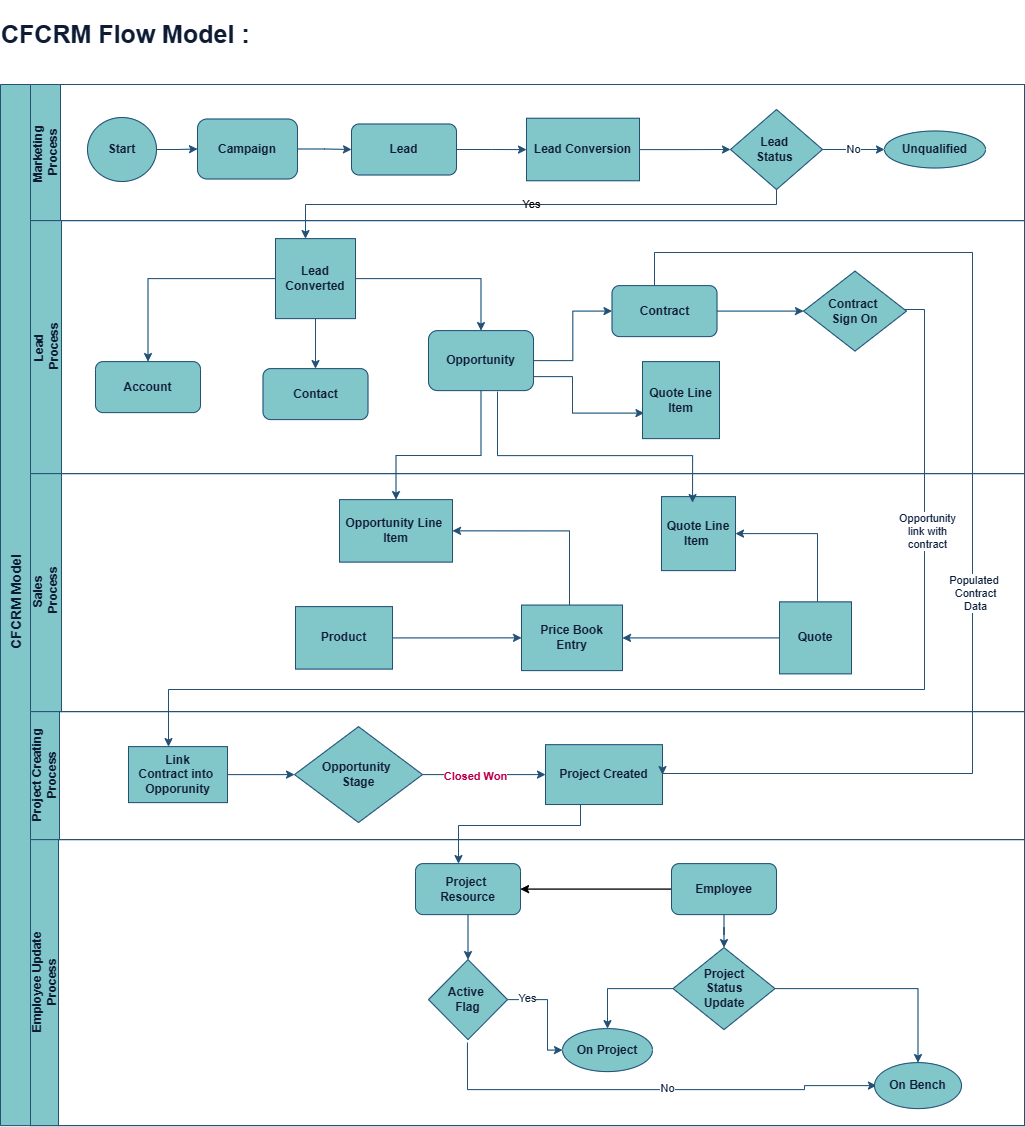 How CloudFulcrum test its CRM using CRT?
In this tutorial, we will explore how CloudFulcrum ensures stability and reliability in their Salesforce application through the use of Copado Robotic Testing (CRT) for CRM automation. As CloudFulcrum constantly updates their Salesforce application, it becomes crucial to maintain stability and reliability. CRT plays a vital role in achieving this goal by automating test cases and enabling quick and accurate validation of new features, enhancements, and configurations.
This tutorial covers the following key steps:
1. Lead conversion: Learn how to convert a lead into an account, contract, and opportunity.
2. Creating a Contract: It shows how to create a contract with validated details, set "start date" and "end date," and attach it to the
corresponding opportunity.
3. Navigating to Opportunity: After creating the contract, attach it to the opportunity and move the opportunity stage to the closed stage.
4. Auto-creation of Projects: Save the contract and opportunity details to automatically create a project for tracking business data, such as
project duration and resource allocation.
5. Project Resource: Navigate to the project resource section, create a new record, and assign an employee to the project resource.
Using CRT, we've automated the CRM app, which streamlines lead conversion, contract creation, opportunity management, and project resource allocation for increased efficiency.
Conclusion:
CloudFulcrum provides an appealing solution to organizations aiming to incorporate Copado Robotic Testing (CRT). With its scalable infrastructure, cost-effectiveness, and adaptable nature, it is an excellent option for conducting thorough and efficient testing across diverse configurations. The automation capabilities of CloudFulcrum optimize testing procedures, while collaborative features and comprehensive reporting facilitate team collaboration and enable well-informed decision-making.
If you would like to know how CloudFulcrum can help your organization, contact us or email us at support@cloudfulcrum.com.