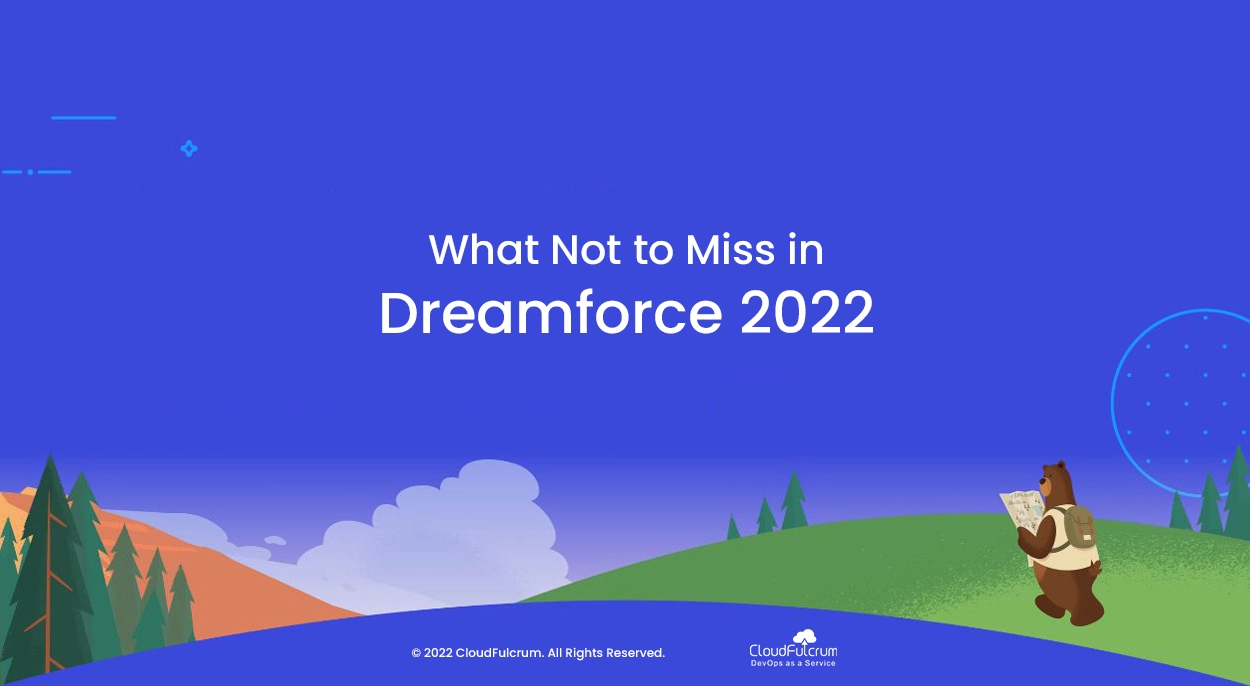 It's that time of the year which software professionals await very eagerly! Yes, it's time for the MEGA event, Dreamforce-2022. Dreamforce will take place in San Francisco at the Moscone Center from September 20-22, 2022. This time, the flagship event of Salesforce is expected to be a MEGA event in every aspect compared to the previous two years, which were impacted by COVID-19 pandemic. While Dreamforce-2020 was completely virtual, it came back with a hybrid avatar in 2021, with about 5,000 physical attendees. However, Dreamforce-2022 is coming with a BIG bang. Moreover, since it is the 20th Anniversary of Dreamforce, it makes the technology extravaganza all the more special.
Dreamforce is the primary conference of Salesforce that happens in San Francisco. It is an annual event that brings together the global Salesforce community and engages them in learning, fun, connection and giving back to society. It attracts close to 200,000 participants and unfolds over multiple days. It is considered as one of the largest tech conferences worldwide and is a kind of epic family re-union.
Established in 2003, Dreamforce has grown beyond just a conference — it is an unprecedented and unique experience. From inspiring keynotes and sessions to visionary thinking and the future of technology, to practically transforming the world, it is an empowering and inspirational gathering.
Dreamforce has earned a reputation as an unusual conference, contrasted with other conventional corporate IT events. It is an experience that celebrates customer success and Salesforce professionals called 'Trailblazers.' During Dreamforce, Trailblazers worldwide gather to share their success stories and learn from one another. Trailblazers enjoy networking and learning at more than 1,000 sessions.
CloudFulcrum is at Dreamforce-2022 and you can book your free appointment with us to supercharge your Salesforce DevOps practice:
https://calendly.com/salesforcedevops/30min.
We are also sponsoring the Happy Hour at Copado and you can register here to join the waitlist:
https://go.copado.com/dreamforce22-happy-hour.
Dreamforce-2022 Agenda
The sessions at Dreamforce-2022 will be divided into four primary categories: 'Roles,' 'Industries,' 'Products,' and 'Topics':
Roles: Sales, Admin, Architect, Commerce, Consultant, Data Analyst, Designer, Developer, Entrepreneur, Finance & Accounting, Human Resources, IT, Legal, Marketing, Merchandising, Operations, Partner, Product Management, Purchasing & Procurement, Sales, Service, and Other.
Industries: Automotive, Communications, Consumer Goods, Education, Energy & Utilities, Financial Services, Government, Healthcare & Life Sciences, Manufacturing, Media & Entertainment, Non-Profit, Professional Services, Public Sector, Retail, Technology, Transportation, Travel & Hospitality, and Other.
Products: Commerce Cloud, Communications Cloud, Consumer Goods Cloud, CRM Analytics, Customer Data Platform, Education Cloud, Energy & Utilities Cloud, Experience Cloud, Financial Services Cloud, Government Cloud, Health Cloud, Heroku, Manufacturing Cloud, Marketing Cloud, Media Cloud, MuleSoft, Net Zero Cloud, Non-Profit Cloud, Public Sector, Quip, Revenue Cloud, Sales Cloud, Sales Enablement, Salesforce Platform, Service Cloud, Slack, Success Plans & Professional Services, Tableau, and Trailhead.
Topics: Customer Success, Automation, Data Culture, Equality, Future of Work, Integration, Salesforce on Salesforce, Sustainability, and Mindfulness & Wellness.
Salesforce will be streaming the best of Dreamforce on Salesforce+ from September 20–22, 2022. This will include two channels across three days, with over 40 hours of content. Salesforce+ is a new streaming service that offers you a front-row seat to choose Dreamforce episodes and unlimited access to Salesforce's original series.
We have put up a list of sessions, with topics that we feel would be interesting to our readers to attend/watch. Here's the list:
| | |
| --- | --- |
| | DREAMFORCE-2022: LIST OF INTERESTING SESSIONS |
| Sl. No. | Topic |
| 1. | 3 Profitable Ways to Accelerate Triple-Digit Growth |
| 2. | 3 Secrets Revenue Teams Use to Win Complex Deals |
| 3. | 3 Ways to Drive Automation and Productivity with B2B Commerce |
| 4. | 5 Elements for Speed-to-Value and Long-Term Success |
| 5. | 5 Ways Finance Can Reduce Costs and Collect Cash Faster |
| 6. | 5 Ways to Save Costs and Drive Efficiency in Virtual Selling |
| 7. | Accelerate Your Digital Transformation with AppExchange |
| 8. | Achieve Business Value with Automation |
| 9. | 4 Lesson from Analyzing 65 Digital Transformations |
| 10. | Accelerate Value through Industry-led Transformation |
| 11. | 5 Tips for Launching an Epic Salesforce Implementation |
| 12. | Accelerate Growth and Success with a Customer 360 View |
| 13. | Achieve Agility and Automate Media & Entertainment Processes |
| 14. | Accelerate Company Growth with Talent Partnerships |
| 15. | Accelerating the Future of Banking |
About CloudFulcrum
With its mission of 'DevOps as a Service,' CloudFulcrum has been a part of multiple successful Salesforce implementations worldwide, with delighted customers in BFSI, Healthcare, Retail, Real Estate, Technology, and many more verticals.
With our DevOps consulting, we help enterprises align their Digital Transformation goals to achieve higher efficiency, faster time-to-market, and better quality of software builds with early identification of potential issues, enabling continuous release of Salesforce applications.