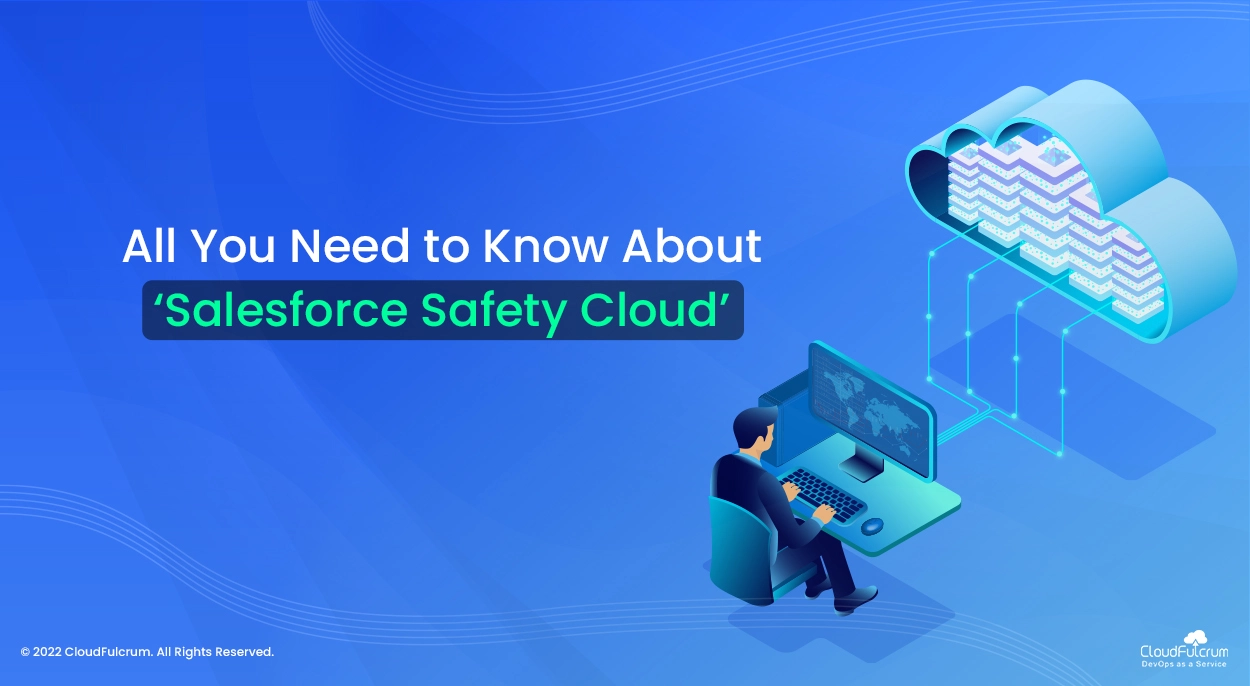 Introduction
Data1 reveals that it is critical for businesses to bring people together safely to build and maintain a culture, employee retention and satisfaction, and business growth. In line with this data, Salesforce recently announced a product called 'Safety Cloud,' which will help businesses and communities better manage their testing, health and entry protocols to create safer experiences at events and in the workplace where people attend in person.
Safety Cloud supports integrations with at-home, pharmacy and on-site testing options, including CVS Health®, eMed, Cue Health, ixlayer, and Senneca DX. These supported testing options can be integrated directly to Safety Cloud, making the testing experience simpler than ever. Moreover, Safety Cloud will support SMART Health Cards and EU Digital COVID Certificates, which are paper or digital versions of clinical information, such as vaccination history or test results.
What is Safety Cloud?
Safety Cloud is built upon Salesforce's own event and workplace experience and upon its current Salesforce health and safety innovations. Safety Cloud aids business organizations and communities manage their testing and health status verification capabilities and protocols in a much-improved manner, while automating and streamlining entry of people into events and workplaces with secure credentials.
Safety Cloud scales COVID-19 testing and health status collection and automates COVID-19 health and safety protocols, thus ensuring employees and customers come together safely. Safety Cloud enables you to collect and verify employee and customer health status such as test results, vaccination records, and health attestations, execute and manage health and safety protocols, and ensure systematic entry of people into events or buildings with secure, multi-factor credentials. The primary purpose of Safety Cloud is to help bring employees and customers safely together.
Why is Salesforce Offering Safety Cloud?
Since testing continues to be a vital element of navigating through the pandemic, it's more significant than ever that organizations have a powerful platform to handle their COVID-19 testing capabilities at scale. But even after close to two years, numerous organizations continue to struggle with flexibly scaling their testing protocols and vaccine verification initiatives to manage the ever-dynamic pandemic landscape without impacting their business operations.
With Safety Cloud, organizations of every size can leverage the latest technology to keep their employees healthy, get together safely, and continue to thrive in this new normal.
How Will Safety Cloud Help?
Safety Cloud will help customers in the following manner:
As public health guidelines and COVID-19 health and safety protocols – including testing and vaccine status requirements, identity and registration, and personalized communication journeys – keep changing with the effluxion of time, Safety Cloud will help build flexible, powerful protocols to bring people safely back together at events. For instance, an organization conducting a customer event on a wide scale can define and automate testing protocols of attendees — including sending customized emails about testing requirements and timelines — eventually helping to identify positive COVID-19 cases before the commencement of the event.
Safety Cloud will systematize COVID-19 testing and health status reporting with speed and safety, and manage COVID-19 testing and vaccination results across a single platform. For instance, if first responders test positive for COVID-19 via an integrated testing platform, they need not visit a physical location to confirm their COVID-19 health status in-person to get approval for paid leave. Safety Cloud ensures that their test results are automatically loaded on to the platform, enabling improved tracking for the availability of other critical workers to ensure sufficient staffing is available amidst rising COVID-19 rates.
Safety Cloud will automate the entry of employees at the workplace and integrate identification and health status into a Dreampass – a secure, multifactor pass for authenticated access. Furthermore, Safety Cloud will enable integrations with SMART Health Cards and EU Digital COVID Certificates, enabling customers to standardize and automate COVID-19 vaccine verification and testing, while eliminating the obsolete physical verification process. For instance, the HR team of an organization that is focused on getting its employees and contractors back to the workplace safely can now automate their entry into the office building via a secure digital pass upon the detection of a negative COVID-19 test result.
Why is Salesforce Focused on Health and Safety?
Since the outbreak of the COVID-19 pandemic, Salesforce has worked in close collaboration with government, public health, and healthcare organizations to support their response, and delivered products and solutions that have successfully overcome the challenges during the pandemic. In the early stages of the pandemic, Salesforce launched Work.com, a set of products and resources to aid organizations efficiently scale and manage operations both at local and global level. This comprised solutions such as the Workplace Command Center, Contact Tracing for Employees, Shift Management, and more.
In December 2020, Salesforce launched Vaccine Cloud to help empower governments, healthcare providers, non-profits, and educational institutions worldwide with the technology required by them to swiftly scale up vaccine operations. And in February this year, Salesforce launched 'Safety Cloud' to help businesses and organizations help bring their customers, employees, and partners back together safely.
What Type of Organizations Can Use Safety Cloud?
Health and safety of its employees and staff is the highest priority for every organization, irrespective of its size or industry type. Safety Cloud is designed to help organizations in creating and executing holistic plans for health and safety.
How is Safety Cloud Different from Vaccine Cloud?
Safety Cloud has evolved as the next level in Salesforce's health and safety efforts during COVID-19. Vaccine Cloud was primarily focused on getting shots in arms and helping organizations to fairly distribute the vaccine at a global scale.
Safety Cloud is focused on helping organizations and communities manage their testing and health protocols in a better way, while automating and systematizing safe entry of people into events and workplaces. Furthermore, Safety Cloud supports integrations with a complete range of different testing options starting with eMed, ixLayer, Senneca, Cue Health, and CVS Health. These omnipresent provider options include testing options at home (proctored antigen tests), in-home testing appliances, local CVS pharmacy visits, on-site testing, and VIP white glove services. Any of these supported testing options can be directly connected to Safety Cloud, making the testing experience easier than ever.
Conclusion
With Safety Cloud, businesses of all sizes can benefit from the latest technology to keep their workers healthy, work together safely, and continue to grow in today's ultra-dynamic environment. From IT to public organizations, every organization can utilize this platform to ensure a secure and safe workplace for everyone. Certain organizations are already using Salesforce to assist its employees to return to the workplace, whereas others are utilizing Salesforce to bring its workers and event-attendees together safely and securely during their gatherings.
1 A Salesforce Employee Survey revealed that 77% of employees wanted to get together in-person with their teams. Also, according to American Express Meetings & Events Global Forecast 2022, 81% of meeting and event professionals expected their events to be in-person in 2022.